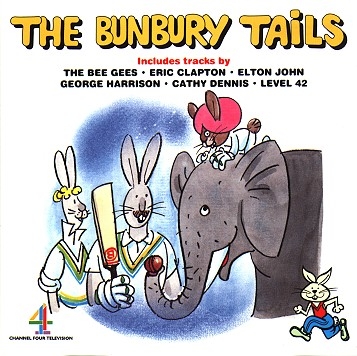 I was almost as overwhelmed when I considered what album to feature in this section as I was when I put together my Bee Gees collection page. Then I remembered that there's actually a pretty interesting story to go along with this CD. At least I hope you'll think so.
If you read the introduction to my Bee Gees collection page, you know that the acquisition of my Robin Gibb Walls Have Eyes album inspired a letter to Discoveries magazine. What I didn't tell you is that I also mentioned The Bunbury Tails in that same letter and suggested that Discoveries might want to cover this album in a subsequent issue of the magazine. They did that in the very next issue (November 2000), which I thought was pretty cool.
The Bunbury Tails is an out of print soundtrack CD that is based on a children's television special produced in the UK, and features most notably the Bee Gees, Elton John, Eric Clapton, Level 42 and George Harrison. Interestingly enough, of the 12 songs on this CD, six of them were written or co-written by one of more of the Gibb brothers, two were sung by the Bee Gees and they did backing vocals on another two of the tracks. There seems to be quite a few people who would like to own this CD. The winning bids for this on eBay peaked at $380 around the middle of May 2000 and have dropped considerably since then, hovering in the $100-150 range. Still, for the ones who have gotten the lower final bids on eBay, their sellers have made a tidy profit if they paid regular retail price for the CD initially.
Well, enough of my rambling. Enjoy perusing the recordings in this section.