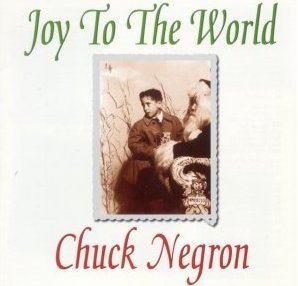 Chuck Negron is best known as one of the three lead singers of the late '60s/early '70s rock group Three Dog Night. He lived the cliché of "sex, drugs and rock 'n' roll" for too many years, finally straightening out his life and kicking a heroin habit in the early '90s. That he is still among the living is a miracle, which makes me appreciate that much more the fantastic music he has made in his solo career. (For more details about Chuck Negron's life, highly recommended reading can be found in his autobiography, Three Dog Nightmare.)
His best effort by far is the delightful Christmas album, Joy To The World, which serves up a perfect blend of secular and religious music, with many standards such as White Christmas, O Come All Ye Faithful and O Holy Night, just to name a few. This album is not the same old dreary arrangements that you typically find of these songs either. Rather, it utilizes orchestration, backing vocals and song arrangements that you seldom hear on Christmas albums, while maintaining the reverence and joy of the holiday season.
By far the best track on this album is the David Foster penned tune Grown Up Christmas List. The message of "peace on earth, good will toward men" is an old one to be sure. Nonetheless, David Foster delivers it in a refreshing way, and Chuck Negron propels the message to new heights with his outstanding vocals and musical arrangement. Grown Up Christmas List is certainly deserving of joining the long list of Christmas classics, and this album deserves the same.