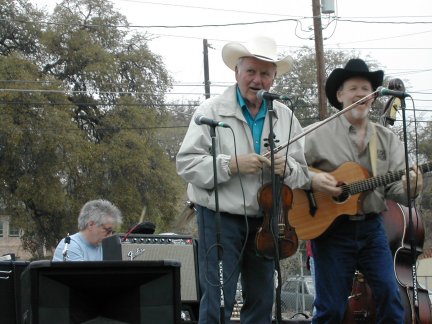 While in Austin, Texas for the Austin Record Convention the weekend of March 16-17, I was able to attend a free concert by Johnny Gimble. The concert was held in the parking lot of a coffee shop called Jo's, which is in downtown Austin across the street from the Continental Club and about a mile from the Palmer Auditorium, the location for the Austin Record Convention.
Johnny was scheduled to start playing about 1 p.m. but as concerts are prone to do sometimes, this one was a little late getting started, beginning instead about 1:15 and going until around 2 p.m. This is the first time I've ever gotten to see/hear him in person, but Johnny put on a great show. Here's the set list:
All Night Long
Milk Cow Blues
Jambalaya
Under The "X" In Texas
Don't Let The Deal Go Down
Exactly Like You
Beaumont Rag
I'll Keep On Loving You
Maiden's Prayer
Faded Love
San Antonio Rose
I was also able to buy a couple of his CDs at the concert and get them autographed. Pretty cool, huh? Click here for a slide show of the pictures I took. Thanks.