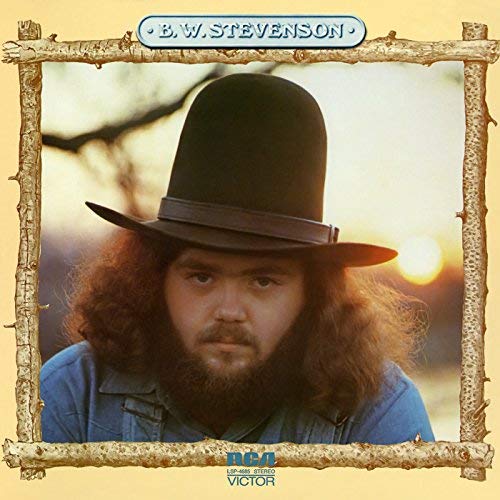 Louis Charles "B. W." (Buck Wheat) Stevenson was born on October 5, 1949. Stevenson first established his reputation as a singer/songwriter in the clubs around Austin, Texas. He had very little success with his self-titled debut album, nor with the follow-up album Lead Free. However, his third album, My Maria, enjoyed hits in the title cut (a Top 10 for Stevenson, and a hit several years later for the country duo Brooks and Dunn), as well as Shambala (a Top 100 for Stevenson, and a Top 10 for Three Dog Night). Unfortunately, he was never again able to replicate that success for the remainder of his career. What a shame, too, because Stevenson released some of the best progressive country music of the '70s.
Although officially classified as a country artist, his music migrated comfortably between country, folk and pop, getting at least a limited amount of airplay in Texas. My personal favorite, On My Own, which can be found on his self-titled debut album (pictured here), is a song about lost love and was apparently born out of a real-life experience for Stevenson. In listening to the lyrics, your heart just breaks for him that the relationship ended in such a terrible way. Incidentally, there is an excellent remake of this song on the album titled Rainbow Down The Road, which was released posthumously. Sadly, Stevenson died on April 28, 1988 at the relatively young age of 38 a few days following heart surgery.


B. W. Stevenson's grave marker
---
It seems the world has found my website, because I've had several inquiries recently on how to get B. W. Stevenson recordings. All modesty aside, I'm pretty good at finding recordings on the Internet. Click here for information to help you find B. W. Stevenson stuff. Good luck!