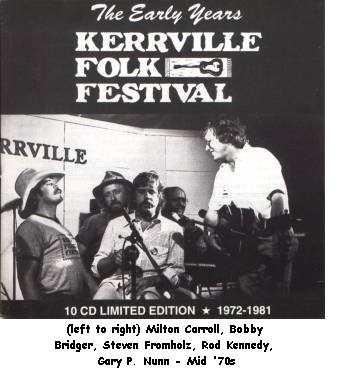 The Kerrville folk festival began as a 3-hour indoor concert June 1-3, 1972 in the Kerrville Municipal Auditorium, with a total attendance of 2800. The next year, midnight concerts were added on two of the days, with the attendance doubling. By 1974, the festival had grown to the point that it was moved outdoors to what is now known as the Quiet Valley Ranch. The Kerrville Folk Festival has steadily grown through the years and has expanded to an 18-day event with attendance in the 30,000 range. Given its longevity and popularity, it is a real treat that a portion of its musical heritage has been preserved in this box set.
The Early Years: Kerrville Folk Festival 1972-1981 is a 10-CD limited edition box set (only 500 were pressed), with one disc each for the ten years covered. 140 songs total by 90 artists, it contains some instantly recognizable names - like Willie Nelson, Townes Van Zandt and Nanci Griffith, just to name a few - as well as artists you may never have heard of, and they all turn in stellar performances.
Highlights include the exquisitely understated Pancho And Lefty, performed by its writer, Townes Van Zandt, the B. W. Stevenson rocker, Shambala, Allen Damron's humorous ditty, A Little Bit Late (even for the Pearly Gates!), and - well, I could keep going until I ended up naming every track here.
Though the slant of most of the music is obviously toward folk, there are notable forays into bluegrass (a totally unique version of the Jerry Lee Lewis tune Great Balls Of Fire, performed by the Bluegrass Revue), country (I'd Have To Be Crazy, by Steven Fromholz) and gospel (Jesus, My Rock by the Royal Light Singers). In short, there's something here that's sure to please just about any listener.
The only real drawback to this box is the fact that it was mastered from LPs. The good news is that it's hardly noticeable on most tracks; the bad news is that on some tracks it's positively annoying. For example, the sound quality on disc 2, from track 6 to the end is particularly painful to listen. Even so, Silverwolf Records is to be commended for its thoughtfulness and selection of material here. Folk music fans are sure to give these discs a spin often.
(Silverwolf catalog number 1009)
Disc 1
This Will Be - Peter Yarrow/A Little Big Late - Allen Damron
Summertime - Carolyn Hester
with Dick Goodwinn, bass
John A. Lomax, Jr. - Long John
Drunken Lady of the Morning - Texas Fever
Texas Blues - Mance Lipscomb
Orange Blossom Special - Dicky Barrett
Candy Creek Reunion and Picnic - Segle Fry
Put Me in the Alley - Robert Shaw
Birds and Wolverines - Steve Fromholz
with Travis Holland, guitar
Tennessee Green - Bill &Bonnie Hearne
When Day Is Done - Peter Yarrow
with Dick Goodwinn, bass
Disc 2
Call - Bobby Bridger
with John Inmond, guitar Layton Depenning, bass; Leonard Arnold, steel guitar; Donny Dolan, drums
Can't Help But Wonder Where I'm Bound - Carolyn Hester
Shambala - B.W. Stevenson
with Herb Steiner, steel guitar; Rodney Garrison, bass; Donny Dolan, drums
Jesus, My Rock - Royal Light Singers
Party's Over - Willie Nelson
with Mickey Ralphael, harmonica; Bobbie Nelson, piano; Jackie Deaton, bass; Paul English, drums
Camille's Blues - Timberline Rose
Richard Dean and Jim Schulman, vocals and guitar
Dear Darcy - Steven Fromholz
Peter's Song - Rev. Charlie Sumners
Waitin' for a Train - Kenneth Threadgill
with Michael Descdeau, bass
Muddy Boggy Banjo Man - Bill Hearne
Here I Come With My Dirthy Duckins On - Robert Shaw
Deep in the West - Ewing Street Times
Shake Russell and John Vandiver, vocals and guitars; Michael Machkis, vocals and bass
Charlie Dunn - Jerry Jeff Walker
with Bob Livingston, bass; Craig Hillis, guitar, Gary Nunn, piano; Herb Steiner, pedal steel guitar; Michael McGarry, drums
Take Away - Sunny Schulman
with Jim Schulman, guitar; Bob Schulman, bass; Ed Page, congas
Tecumseh Valley - Townes Van Zandt
Disc 3
West Texas Country Western Dance Band - Ray Wylie Hubbard
with The Cowboy Twinkies - Terry Joe Ware, guitar; Clovis Roblane, mellotron; Jim Herbst, drums
Just Like Me - Jimmy Johnson
La Paloma - Flaco Jimenez
with Manuel Pacheco, bajo sexto; Cookie Martinez, drums; Carlos Garza, bass; Fred Ojeda, vocals and guitar
Lardo Lady - Riley Osbourne
Liberty - Terry Morris
with The Bluegrass Ramblers of LaPorte, Texas
Ruby - Southern Strangers
Rual Yarbrough, banjo; Harold Weeks, lead singer and rhythm guitar; Buddy Whitten, Dobro; James Whitten, bass
Mississippi Delta Blues - Kenneth Threadgill
with The Velvet Cow Pasture - Charlie Davis, bass; Buzz Dolim, guitar; Randy Melcancon, drums
Silent Souls - Bill Priest
Why Don't You Love Me Like You Used to Do? - Asleep at the Wheel
with Leroy Preston and Chris O'Connell, vocals; Ray Benson, lead guitar; Richard Cassanova, fiddle; Floyd Domino, piano; Tony Garnier, bass; Lucky Oceans, peddle steel guitar;
Last Thing I Needed - Bill Hearne
Bill Hearne, guitar; Bonnie Hearne, vocals and piano; Jess Yaryan, bass; John Hill, drums
Tin Can Jamboree - Three Faces West
with Wayne Kidd, vocals and guitar; Rick Fowler and Steve Howell, vocals and guitars
Will the Circle Be Unbroken - Plum Nelly
Terry Jo Jones, vocals; Bill Stoner, guitar; Benny Thurman, fiddle; Ernie Gammage, bass; harmony vocals, all
Disc 4
Gypsy Songman - John Vandiver
Somewhere I Hear an Angel Singing the San Antonio Rose - Red River Dave
Slow Movin' Outlaw - Dee Moeller
Dee Moeller, piano and vocals; Michael Stults, guitar; John Keller, bass; J. D. Kindrick, drums
I've Had the Blues - Juke Boy Bonner
Seven Bridges Road - Wheatfield
Connie Mims, vocals and tamborine; Craig Calvert, vocals and guitar; Cris Idlet, vocals and banjo; Bob Russell, vocals and bass; Damion Hevia, percussion
Anyhow I Love You - Guy Clark
Mickey White, lead guitar; Mickey Raphael, harmonica; Steve Earl, backing vocals and bass
Poncho and Lefty - Townes Van Zandt
Townes Van Zandt, vocals and guitar; Mickey White, lead guitar; Rex Bell, bass
Starmaker - Bobby Bridger
with John Inman, guitar
There's Nothin' I Can Do - Plum Nelly
Jerry Jo Jones, vocals; Bill Stoner, guitar; Johnny Richardson, electric guitar; Benny Thurman, fiddle; Ernie Gammage, bass
Wolverillo Rap - Steven Fromholz
with Travis Holland, guitar
Let Your Colors Fly - Denim
Bill Browder, vocals and guitar; David Moerbe, vocals and drums; Richard Mullen, vocals and guitar; Paul Clagette, vocals and guitar; Jerry Crow, bass
Don't Touch Me - Carolyn Hester
with Dave Blume, bass
Shorty George - Robert Shaw
Great Balls of Fire - Bluegrass Revue
Bob Clark, vocals and mandolin; Bill Perry, Jr., vocal harmony and banjo; Vince Gill, guitar; Mike Perry, bass
New Freedom March - Mike Seeger
Dear Darcy - Bill Hearne
Bill Hearne, vocals and guitar; Bonnie Hearne, piano and harmony vocals; Mickey Raphael, harmonica; Larry Nye, bass
Mississippi Moon - Kenneth Threadgill
Kenneth Threadgill, vocals; Rene Best, guitar; Charlie Davis, bass; David Atke, drums
Red Riding Hood - Terry Waldo
Jazz Bo Dancer - Ray Wylie Hubbard
with The Cowboy Twinkies
Down to Mexico - Augie Meyer
and The Western Hat Band
Disc 5
Torn Between Two Lovers - Peter Yarrow
Lovin' You That's All - Milton Carroll
Back on the Street - Mark McKinnon
Mark McKinnon, vocals and guitar; Rick Gordon, lead guitar
What a Way to Go - Dee Moeller
Dee Moeller, vocals and piano; Dennis Blain, guitar; Doug Harmon, cello; J. D. Kindrick, drums; Doug Sederholm, bass
Eight Miles - Kurt Van Sickle
Chime Bells - Bill Staines
Bill Staines, vocals and guitar; Bill Cade, electric bass
Luckenbach Daybreak - Hondo Crouch
Hondo's backup: Joe Stuart, guitar; Brian Kanof, harmonica
From Me to You - Shane &Kitty
Texas Traveling Song - Bill Neely
Bill Neely, vocals and guitar; Larry Kirbo, guitar
Love Is - Don Sanders
You Made My Life a Song - Carolyn Hester
Taking Leave of the Nest - Bill Haymes
Second Time Around - Hardin &Russell
Patricia Hardin, vocals and piano; Tom Russell, vocals and guitar
Free My Spirit - Bobby Bridger
Bobby Bridger, vocals and guitar; John Inman, lead guitar; Doug Harmon, piano; John Garza and Mike Williams, backing vocals; David Amran, French horn and Pakistani flute; Donny Dolen, drums; Gary P. Nunn, bass
Disc 6
It's So Hard to Find a Smile - Bill &Bonnie Hearne
Bill Hearne, vocals and guitar; Bonnie Hearne, vocals and piano
I'd Have to Be Crazy - Steven Fromholz
Steven Fromholz, vocals and guitar
We Got the Make the Change - Milton Carroll
Milton Carroll, vocals and piano
One Man's Hands - Carolyn Hester
Carolyn Hester, vocals and guitar
If I Needed You - Townes Van Zandt
Townes Van Zandt, vocals and guitar; Mickey White, guitar
Can't Help But Wonder Where I'm Bound - Tom Paxton
Tom Paxton, vocals and guitar
Joshua Tree - Hardin &Russell
Patricia Hardin, vocals and piano; Tom Russell, vocals and guitar
Painting Son - Mike Williams
Mike Williams, vocals and guitar
Weaving Is the Property of Few These Days - Dan McCrimmon
Dan McCrimmon, vocals, harmonica, and guitar
Fools Fall in Love - Butch Hancock
Butch Hancock, vocals, harmonica, and guitar; Dee White, guitar; Richard Bowden, fiddle; Leon Grizzard, bass
Temper, Temper - John Vandiver
B. W. Stevenson, vocals and guitar; Dan McCrimmon, harmonica; John Vandiver, vocal harmony
Disc 7
Sweet Melissa - Mother of Pearl
Ernie Gammage, vocals and bass; Jerry Jo Jones, backing vocals; Johnny Richardson and Layton DePenning, guitars; Don Fischer, drums and backing vocals
Livin' on a Dry Land Farm - Joe Ely
Joe Ely, vocals and guitar, with Butch Hancock, vocals; Joe Ely Band
Sweet Virginia Lace - Rick Beresford
Rick Beresford, vocals and guitar
Stuck in New York City - Frummox
Steven Fromholz, vocals and guitar; Dan McCrimmon, vocals and guitar
Take Me Back to Tulsa/Milk Cow Blues - Alvin Crow
Alvin Crow, vocals and fiddle; Rick Crow, guitar; Roger Crabtree, harmonica; Johnny Holly, drums; Gary Roller, bass; Bobby Earl Smith, rhythm guitar; Herb Steiner, pedal steel guitar
Chime Bells - Kevin Hatcher &Ken Brothers
Kevin Hatcher, vocals and autoharp; Ken Brothers, vocals; and The Mountain Vagabonds
Queen of the Rodeo (Cheryl Doreen) - Rusty Wier
Rusty Wier, vocals and guitar; Chuck Flood, harmonica
Crawdad Song - Buck White &Guy Clark
Buck White, vocals and mandolin; Guy Clark, vocals; Bob Black, banjo; Sharon Hicks, guitar and harmony vocals; Cheryl White, bass and harmony vocals
Dollar Matinee - Eric Taylor &Nanci Griffith
Eric Taylor, vocals and guitar; Nanci Griffith, vocals; Bill Cade, bass and harmony vocals
Alfred the Hog - David Amram
David Amran, vocals and guitar, percussion, flutes; Lindsay Haisley, autoharp and backing vocals; Donny Dolen, drums; Bobby Bridger and Gary P. Nunn, backing vocals, questions and laughs; Kerrvillaires
Disc 8
Well Well Well - Gibson &Camp
Bob Gibson and Hamilton Camp, vocals and guitar
Getaway - Gary P. Nunn
Gary P. Nunn, vocals and guitar; David Amran, flute, cowbell, guiro; B. W. Stevenson and Bobby Bridger, backing vocals
Little Buutterfly - Louis Real &Cactus Rose
Louis Real, vocals and guitar; Cactus Rose Band
Light Beyond These Woods - Nanci Griffith
Nanci Griffith, vocals and guitar; Eric Taylor, guitar; John Hage, cello
Hello Early Morning - Ray Wylie Hubbard
Ray Wylie Hubbard, vocals and guitar; John Inman, guitar; Bob Livingston, piano and bass; Donny Dolen, drums
Don't Let the Devil Turn You Around - Lindsay Haisley
Lindsay Haisley, vocals and autoharp
Deep in the West - Shake Russell - Dana Cooper Band
Shake Russell, vocals and guitar; Dana Cooper, harmony vocals, guitar and harmonica; Steven Fromholz and John Vandiver, harmony vocals; Michael Mashkes, bass; John Alderman, piano; Peter Gorisch, drums
Cattle Call - Ken Brothers
Ken Brothers, vocals and guitar
Battle of New Orleans - Jimmy Driftwood
Jimmy Driftwood, vocals and guitar; Allen Damron, harmony vocals
Tennessee Bottle - Jim Ritchey &Be Jae Fleming
Jim Ritchey, vocals and guitar; Be Jae Fleming, mandolin and harmony vocals
Safely in the Arms of Jesus - Mercy River Boys
Wayne Christian, lead vocals
Midnight Moonlight - Peter Rowan
Peter Rowan, vocals and guitar; Jimmy Fuller, pedal steel guitar; Roger Mason, bass; Ed Hughes, drums
Disc 9
Austin Pickers - Gary P. Nunn
Gary P. Nunn, vocals and guitar; Mike Hardwick, steel guitar; Paul Gold, bass; David Amran, flute &French horn; Billy Sink, drums
Twilight Serendade - Tish Hinojosa
Rish Hinojosa, vocals and guitar; Dave McGill, piano; Craig Barker, bass
Don't You Feel It Too? - Uncle Walt's Band
David Ball, vocals and bass; Champ Hood &Walter Hyatt, vocals and guitars
Bramble and The Rose - Mary McCaslin
Mary McCaslin &Jim Ringer, vocals and guitars
I Want My Mama - Lonnie Glosson
Lonnie Glosson, harmonica, vocals and guitar
I Came Here to Stay - Masters Four
David J. D. Kapp, bass, and the Masters Four Quartet; Terry Laird, piano
Dulcimer Meldey - Eaglebone Whistle
Graham Hall, fiddle; Jane Gillman, guitar; Greg Raskin, hammered dulcimer; Stephanie Beardsley, bass; John Hagen, cello
Touch of New Orleans - Michael Marcoulier
Michael Marcoulier, vocals and guitar; Jim Racraft, guitar and harmony vocals; Bill Strawn, bass and harmony vocals; Bubba Robin, tenor sax; Carson Graham, drums
Blue Skies - Terry Waldo
Terry Waldo, vocals and piano
One Night Stand - Lucinda Williams
Lucinda Williams, guitar and vocals; Mickey White, guitar; Rex Bell, harmony vocals and bass
Baby Boy - Shady Grove Ramblers
Tom Uhr, vocals and guitar; Lloyd Hinch, mandolin and harmony vocals; Kevin Kirkpatrick, banjo; George Buzzy Stevens, bass and harmony vocals
I Love Trash - Don Sanders
Don Sanders, vocals and guitar
Nina's Nocturne - Jon Ims
John Ims, vocals and guitar
Midnight Special - Spider John Koerner
Spider John Koerner, vocals, harmonica and guitar
Disc 10
Heartbroke - Guy Clark
Guy Clark, vocals and guitar with band
Looking for You - Bob Gibson
Bob Gibson, vocals and banjo
Ascending Woman - Carolyn Hester
Carolyn Hester, vocals and guitar
Piggly Wiggly Blues - Robert Shaw
Robert Shaw, vocals and piano
River of Stone - Peter Rowan
Peter Rowan, vocals and guitar
Maria Consuela - Tim Henderson
with Allen Damron, vocals
Jimmie the Kid - Kenneth Threadgill
Kenneth Threadgill, vocals; Bill Neely, guitar; Fletcher Clark, mandolin
Pecos Bill - Riders in the Sky
Ranger Doug Green, vocals and guitar; Too Slim, vocals and bass; Woody Paul, vocals and fiddle
Take My Hand - Odetta
Odetta, vocals and guitar
Steven Bridges Road - Steve Young
Armelia Earhart's Last Flight - Red River Dave McHenry
Red River Dave, vocals and guitar
Esta Solida del Sol - Eliza Gilkyson
Eliza Gilkyson, guitar and vocals; Christine Albert, harmony vocals; John Egnes, accordion; Alan Hand, organ; Peter Rowan, mandolin; Robbie Robertson, guitar; Steve Lindsay, bass; Beard Banner, drums
Puff the Magic Dragon - Peter Yarrow
Peter Yarrow, vocals and guitar; Dick Goodwin, bass
Dulcimer Medley No. 2 - Eaglebone Whistle
Greg Raskin, hammered dulcimer; Graham Hall, fiddle; Jane Gillman, guitar; Stephanie Beardsley, bass; John Hagen, cello
Sixth Level - Gatemouth Brown
Gatemouth Brown, fiddle and guitar with band
Kentucky Waltz - Buck White
Sharon White, guitar; Jerry Douglas, Dobro; Cheryl White, bass
Dallas - Jimmie Gilmore and Butch Hancock
Jimmie Gilmore, vocals and guitar; Butch Hancock, vocals and harmonica; David Halley, lead guitar; John Reed, rhythm guitar; Bobby Earl Smith, bass; Dee White, drums
If I Had a Hammer - Bob Gibson, Odetta, Peter Yarrow Peter Yarrow, vocals; Bob Gibson, vocals and guitar; Odetta, vocals