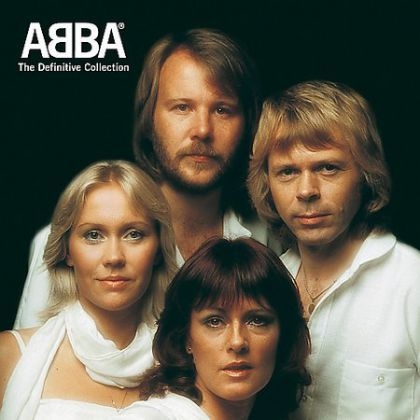 ABBA - The Definitive Collection on DVD
#
Track Title
Artist
Composer
Time
1
Waterloo
Benny Andersson, Bjorn Ulvaeus, Stig Anderson
2:47
2
Ring Ring
Benny Andersson, Stig Anderson, S. Cody, Bjorn Ulvaeus, Neil Sedaka
3:16
3
Mamma Mia
Benny Andersson, Bjorn Ulvaeus, Stig Anderson
3:27
4
S.O.S.
Benny Andersson, Bjorn Ulvaeus, Stig Anderson
3:16
5
Bang-A-Boomerang
Benny Andersson, Bjorn Ulvaeus, Stig Anderson
2:59
6
I Do, I Do, I Do, I Do, I Do
Benny Andersson, Bjorn Ulvaeus, Stig Anderson
3:13
7
Fernando
Benny Andersson, Stig Anderson, Bjorn Ulvaeus
4:10
8
Dancing Queen
Benny Andersson, Bjorn Ulvaeus, Stig Anderson
3:44
9
Money, Money, Money
Benny Andersson, Stig Anderson, Bjorn Ulvaeus
3:15
10
Knowing Me, Knowing You
Benny Andersson, Bjorn Ulvaeus, Stig Anderson
3:56
11
That's Me
Benny Andersson, Bjorn Ulvaeus, Stig Anderson
3:09
12
The Name Of The Game
Benny Andersson, Stig Anderson, Bjorn Ulvaeus
4:52
13
Take A Chance On Me
Benny Andersson, Bjorn Ulvaeus
4:01
14
Eagle
Benny Andersson, Bjorn Ulvaeus
3:46
15
One Man, One Woman
Benny Andersson, Bjorn Ulvaeus
4:27
16
Thank You For The Music
Benny Andersson, Bjorn Ulvaeus
3:47
17
Summer Night City
Benny Andersson, Bjorn Ulvaeus
2:41
18
Chiquitita
Benny Andersson, Bjorn Ulvaeus
5:18
19
Does Your Mother Know
Benny Andersson, Bjorn Ulvaeus
3:30
20
Voulez-Vous
Benny Andersson, Bjorn Ulvaeus
4:09
21
Gimme! Gimme! Gimme! (A Man After Midnight)
Benny Andersson, Bjorn Ulvaeus
3:29
22
On And On And On
Benny Andersson, Bjorn Ulvaeus
4:33
23
The Winner Takes It All
Benny Andersson, Bjorn Ulvaeus
4:52
24
Super Trouper
Benny Andersson, Bjorn Ulvaeus
4:09
25
Happy New Year
Benny Andersson, Bjorn Ulvaeus
4:22
26
When All Is Said And Done
Benny Andersson, Stig Anderson, Bjorn Ulvaeus
3:22
27
One Of Us
Benny Andersson, Bjorn Ulvaeus
4:13
28
Head Over Heels
Benny Andersson, Bjorn Ulvaeus
3:43
29
The Day Before You Came
Benny Andersson, Bjorn Ulvaeus
5:36
30
Under Attack
Benny Andersson, Bjorn Ulvaeus
3:53
31
When I Kissed The Teacher
Benny Andersson, Stig Anderson, Bjorn Ulvaeus
2:55
32
Estoy Sonando (I Have A Dream)
Benny Andersson, Bjorn Ulvaeus
4:43
33
Felicidad (Happy New Year)
Benny Andersson, Bjorn Ulvaeus
4:31
34
No Hay A Quien Culpar (When All Is Said And Done)
Benny Andersson, Bjorn Ulvaeus
3:15
35
Dancing Queen
Benny Andersson, Bjorn Ulvaeus, Stig Anderson
3:43
Total Time:
2:15:02
Album Notes
Two decades after they last recorded together, Abba remain as one of the most popular music acts of all time. Hits like Waterloo, S.O.S., Fernando, Dancing Queen, Take A Chance On Me, The Winner Takes It All and Super Trouper are as loved today as they were when the four Swedes rules the charts worldwide.
But for all the brilliance of their music, Abba are remembered as much for their glittery costumes and general 1970s appearance - and perhaps this part of their legacy was never better exposed than in their groundbreaking music videos. Made at a time when MTV didn't exist and very very artists produced ''promo clips'' - as they were known at the time - Abba have been hailed as pioneers in this field. Most of the videos were made by award-winning director Lasse Hallstrom, who today is well-known for movies such as My Life As A Dog, What's Eating Gilbert Grape and The Cider House Rules.
The Definitive Collection features every official Abba video in one package for the first ime, including three Spanish clips that have never been commercially released before. Two additional bonus selections from Abba's television appearances have also been included: When I Kissed The Teacher, and a performance of Dancing Queen at The Royal Swedish Opera in Stockholm. All clips have been digitally remastered from the original negatives and synchronized with 24 bit remastered sound, making them look and sound better than ever before.
The Definitive Collection is an amazing journey through Abba's string of hits, and a wonderful celebration of their timeless appeal. Sit back and enjoy!
Official website:
www.abbasite.com