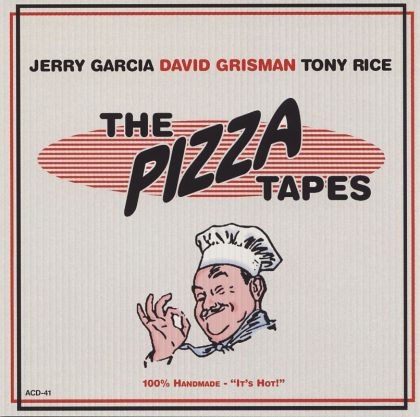 Jerry Garcia / David Grisman / Tony Rice - The Pizza Tapes on CD
#
Track Title
Artist
Composer
Time
1
Appetizer
0:13
2
Man of Constant Sorrow
Traditional
5:07
3
Appetizer
0:29
4
Louis Collins
Mississippi John Hurt
5:57
5
Shady Jam
Jerry Garcia, David Grisman, Tony Rice
3:41
6
Shady Grove
Traditional
4:46
7
Always Late
Lefty Frizzell, Blackie Crawford
0:54
8
Guitar Space/ Summertime
Jerry Garcia, Tony Rice / George Gershwin, Ira Gershwin, Dubose Heyward
8:42
9
Appetizer
0:27
10
Long Black Veil
Danny Dill, Marijohn Wilkin
4:30
11
Rosalee McFall
Traditional
3:13
12
Appetizer
1:13
13
Drifting Too Far from the Shore
Charles Moody
4:54
14
Amazing Grace
John Newton
4:55
15
Little Sadie
Traditional
3:14
16
Knockin' on Heaven's Door
Bob Dylan
5:48
17
Space Jam
0:59
18
So What
Miles Davis
6:29
19
Appetizer
0:22
20
House of the Rising Sun
Traditional
8:05
Total Time:
1:13:58
Album Notes
Executive producer - Craig Miller
Recorded February 4th and 5th, 1993 at Dawg Studios
Recorded and mixed by ''Decibel'' David Dennison
Mastered by Paul Stubblebine
Production assistance by Rob Bleetstein
Dawgnet
Extended data submitted by MWM
This album is interesting in how it came to be. According to the story, Jerry Garcia, David Grisman and Tony Rice were engaged in a late night jam session and as was their custom, recorded the session on cassette for their own review and personal enjoyment later. While recording, they got hungry and ordered pizza for delivery. The delivery man, who was also a huge fan of the Grateful Dead and Jerry Garcia, stole this cassette and proceeded to make copies for other fans.
Eventually, one of the songs from this jam session made it to New York radio, where David Grisman heard it. Realizing that the recording session had reached many people far and wide, the three decided they might as well make some money off it, and The Pizza Tapes was born. Even more cool than the story of how this recording came to be is the fact that not only does the CD case look like a pizza box, the CD case itself is clear and when you open it, the case reveals the inside of a pizza box - complete with grease spots and a few half eaten pizza crusts!
This recording reminds me so much of my late father and his own recordings of jam sessions with a friend. My dad was, of course, not famous and would never have had his recordings stolen, much less have them turn up on a local radio station. Still, like Garcia, Grisman and Rice, it is nice to know that he preserved some of his recordings for posterity.
You can read more about The Pizza Tapes on
Wikipedia
.