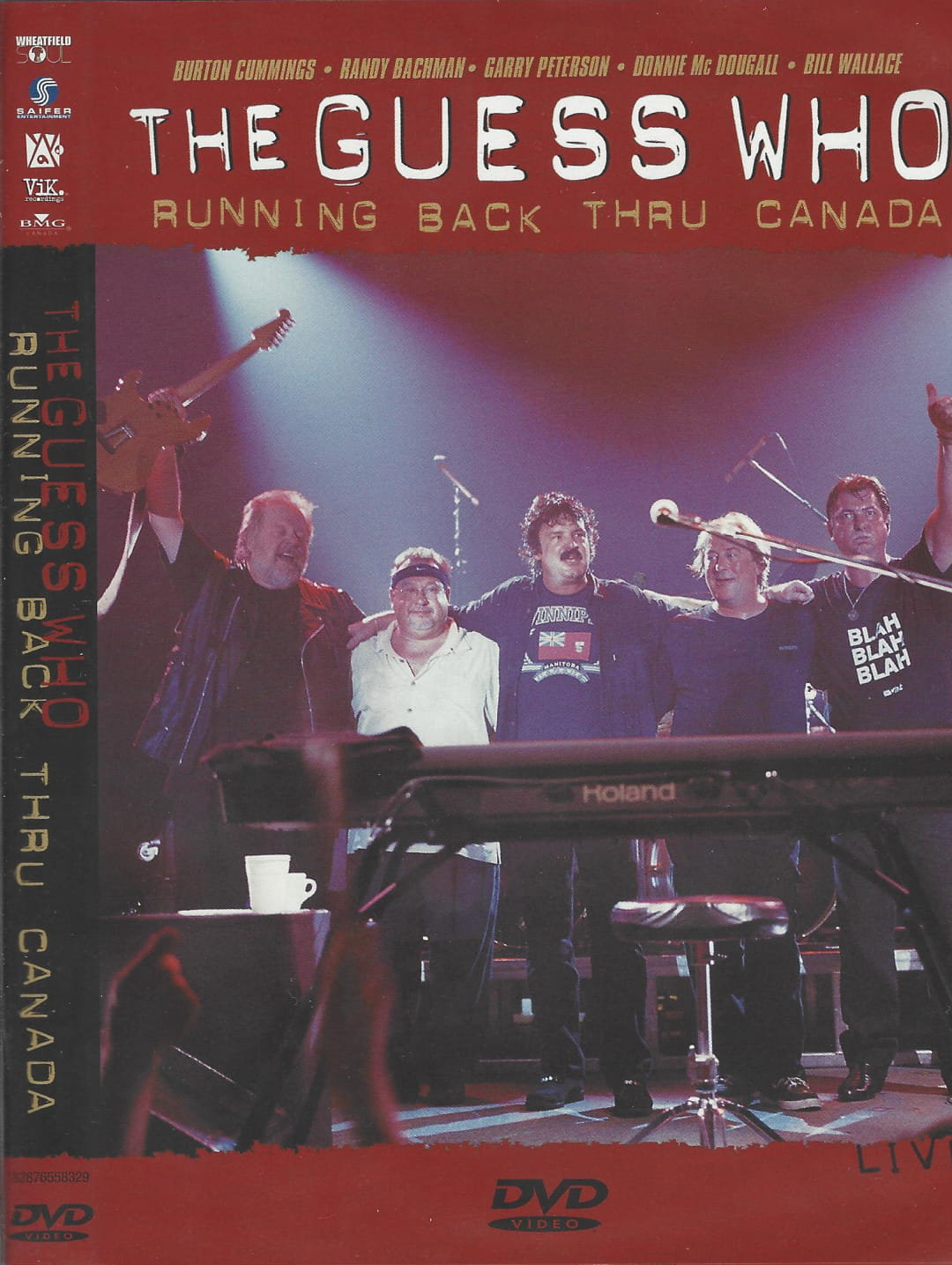 The Guess Who - Running Back Thru Canada on DVD
#
Track Title
Artist
Composer
Time
1
Runnin' Back To Saskatoon
Burton Cummings, Kurt Winter
7:28
2
Rain Dance
Burton Cummings, Kurt Winter
3:27
3
Glamour Boy
Burton Cummings
6:33
4
These Eyes
Randy Bachman, Burton Cummings
3:51
5
Lookin' Out For #1
Randy Bachman
5:20
6
No Sugar Tonight / New Mother Nature
Randy Bachman, Burton Cummings
5:44
7
Let It Ride
Randy Bachman, Fred Turner
4:12
8
Undun
Randy Bachman
5:11
9
American Woman
Randy Bachman, Burton Cummings, Garry Peterson, Jim Kale
14:31
10
Albert Flasher
Burton Cummings
2:48
11
Takin' Care Of Business
Randy Bachman
6:17
12
Laughing
Randy Bachman, Burton Cummings
3:14
13
Bus Rider
Kurt Winter
2:54
14
No Time
Randy Bachman, Burton Cummings
5:34
15
Share The Land
Burton Cummings
6:41
16
Clap For The Wolfman
Burton Cummings, Bill Wallace, Kurt Winter
5:26
17
Guns Guns Guns
Burton Cummings
5:27
18
Hand Me Down World
Kurt Winter
4:10
19
Sour Suite
Burton Cummings
4:37
20
Talisman
Randy Bachman, Burton Cummings
6:31
21
Heartbroken Bopper
Burton Cummings, Kurt Winter
4:45
22
The Interview
20:00
23
The Rehearsal Hall
19:27
Total Time:
154:08
Album Notes
When the incredibly successful Running Back Thru Canada tour hit Winnipeg, fans of The Guess Who came to see the home town boys play the songs that made them international superstars. Playing to a home town crowd is never easy but on this night the challenge would go beyond the butterflies and anxiety of facing family and friends. It came in the form of a full blown prairie storm that forced The Guess Who off the stage for nearly an hour as thunder and lightning provided the entertainment for a drenched audience.

The concert features 15 classic Guess Who tunes plus 6 bonus tunes especially mastered for the DVD, as well as an exclusive interview with Randy and Burton and rare scenes from The Rehearsal Hall.

Note: Tracks 16-21 are the bonus songs.