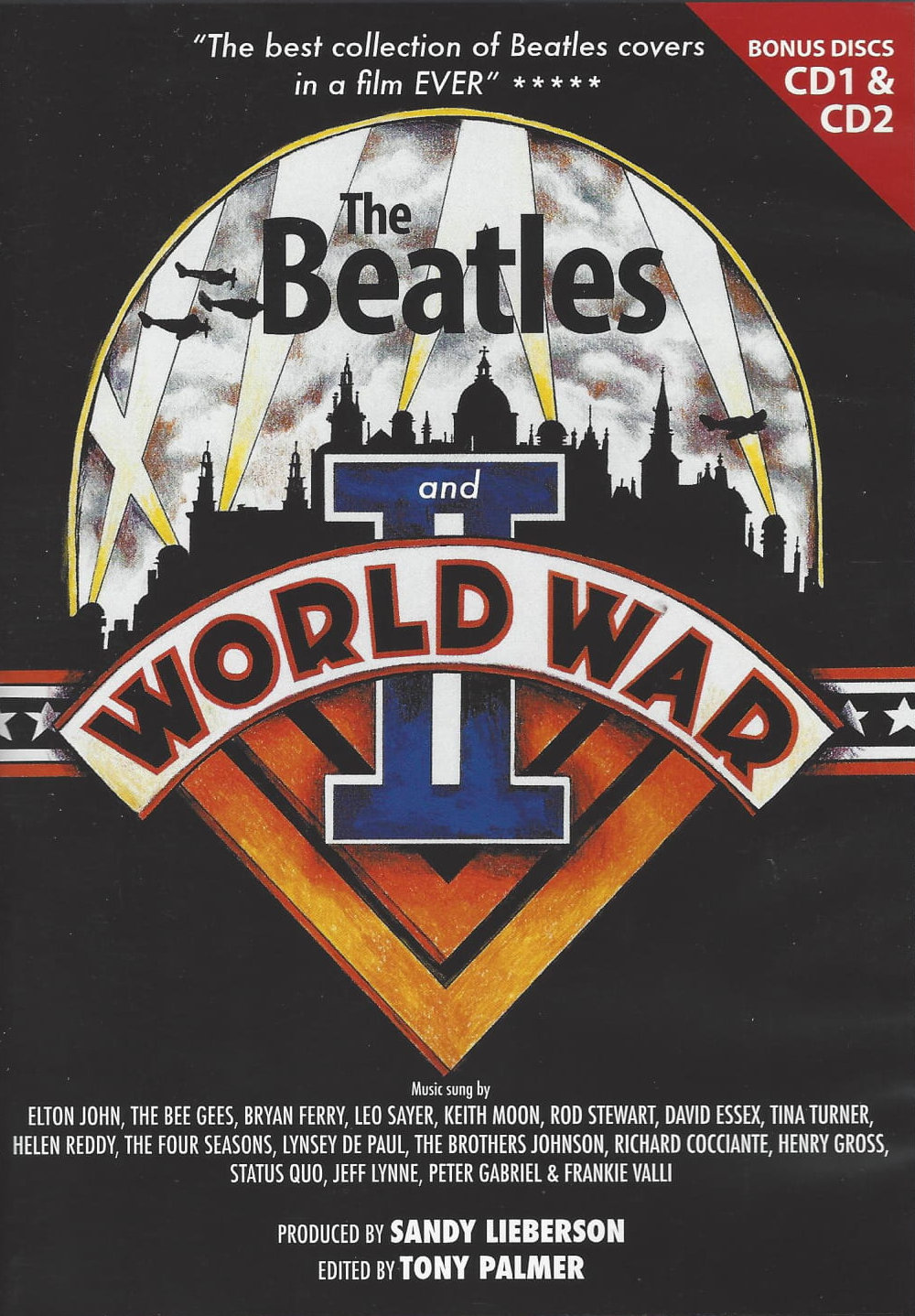 Movies / Musicals - The Beatles And World War II on DVD
#
Track Title
Artist
Composer
Time
1
August 1939; 'Shall I compare these to a summer's day...'
2:55
2
Fool On The Hill
Helen Reddy
John Lennon, Paul McCartney
5:15
3
Yesterday
David Essex
John Lennon, Paul McCartney
2:51
4
The Long And Winding Road
Leo Sayer
John Lennon, Paul McCartney
4:56
5
I Am The Walrus
Leo Sayer
John Lennon, Paul McCartney
1:37
6
Come Together
Tina Turner
John Lennon, Paul McCartney
3:31
7
Pearl Harbour
5:47
8
Maxwell's Silver Hammer
Frankie Laine
John Lennon, Paul McCartney
4:20
9
She's Leaving Home
Bryan Ferry
John Lennon, Paul McCartney
1:22
10
Let It Be
Leo Sayer
John Lennon, Paul McCartney
2:48
11
Getting Better
Status Quo
John Lennon, Paul McCartney
3:04
12
Help!
Henry Gross
John Lennon, Paul McCartney
2:55
13
Nowhere Man
Jeff Lynne
John Lennon, Paul McCartney
2:51
14
With A Little Help From My Friends
Jeff Lynne
John Lennon, Paul McCartney
4:01
15
Lucy In The Sky With Diamonds
Elton John
John Lennon, Paul McCartney
6:37
16
Because
Lynsey DePaul
John Lennon
1:08
17
Get Back
Rod Stewart
John Lennon, Paul McCartney
2:09
18
Nowhere Man
Jeff Lynne
John Lennon, Paul McCartney
1:08
19
Stalingrad
5:31
20
The Russian Steamroller
4:09
21
A Day In The Life
Frankie Valli
John Lennon, Paul McCartney
6:04
22
Michelle
Richard Cocciante
John Lennon, Paul McCartney
4:11
23
The Long And Winding Road
Leo Sayer
John Lennon, Paul McCartney
3:41
24
When I'm Sixty-Four
Keith Moon
John Lennon, Paul McCartney
1:04
25
Golden Slumbers
The Bee Gees
Paul McCartney
3:12
26
Hey Jude
The Brothers Johnson
John Lennon, Paul McCartney
2:34
27
Hiroshima and onwards .....
5:54
28
End Titles
0:56
Total Time:
96:31
Album Notes
From
axs.com
:
''All This and World War II,'' a 1976 film that features Beatles covers by a diverse group of rock stars against a background of World War II images, has been revamped and re-edited into a new film, ''The Beatles and WWII,'' that will be issued on a DVD/CD set by Gonzo Multimedia UK in the U.S. and also in the UK on July 15, the company announced in a press release July 11. The film, directed by Tony Palmer, features many of the most famous solo artists of the '70s, including the Bee Gees, the Four Seasons, Elton John, Keith Moon, Tina Turner, Peter Gabriel, Helen Reddy, Frankie Valli and Jeff Lynne singing their versions of Beatles songs against documentary and newsreel footage of the Second World War.
''The old 1976 film ('All This and World War II') was the strangest mix of cinema and rock 'n' roll, combining World War II images (newsreels and Hollywood films made at that time) with the music of The Beatles (not The Beatles original recordings, but cover versions by various artists),'' wrote Ronnie Dannelley of Ear Candy Magazine. ''The end result was disastrous. The original distributor junked the film so completely that no copies survived, and the film took on its iconic status.''
''Although the original 1976 film had disappeared, thanks to the indifference and stupidity of the original distributor,'' said director Palmer, ''instinctively I felt the central idea, and the material, and of course the music, were just too good to be lost forever. So for those fans who have had to rely on a few very poor quality extracts on YouTube, the 2016 film is a completely new experience, much of it in HD. Yes, we have used some of the original tracks, but added a lot of new archive footage, some never seen before.
''In addition, I have often used totally different music. The film starts with Vaughan Williams, and ends with Shostakovich, taking in Rachmaninoff en route and including many of the famous Second World War speeches by Roosevelt, Churchill, Montgomery, Chamberlain, Joe Kennedy and Hitler. And the film makes reference to war-torn Syria and the massive problem of immigration along the way. It is a far more complex film than the original, and I hope will give everyone pause for thought about the troubled world in which we live.''
The unusual list of tracks on the CD/DVD set includes ''The Fool on the Hill'' by Helen Reddy, ''Yesterday'' by David Essex, ''The Long and Winding Road,'' ''Let It Be'' and ''I Am the Walrus'' by Leo Sayer, ''Maxwell's Silver Hammer'' by Frankie Laine, ''She's Leaving Home'' by Bryan Ferry, ''Getting Better'' by Status Quo, ''Nowhere Man'' and ''With a Little Help from My Friends'' by Jeff Lynne, ''Lucy in the Sky with Diamonds'' by Elton John, ''She Came In Through the Bathroom Window'' and ''Golden Slumbers'' by The Bee Gees, ''Get Back'' by Rod Stewart, ''We Can Work It Out'' by The Four Seasons, ''A Day In The Life'' by Frankie Valli, ''When I'm Sixty-Four'' by Keith Moon, ''Strawberry Fields Forever'' by Peter Gabriel, ''Hey Jude'' by The Brothers Johnson and ''Shostakovich 4th Symphony.''
Palmer told Ear Candy, ''It's not quite the same film. I have re-edited great chunks of it, but I've used much of the same material, and of course many of the same songs. Permit me to say it looks and sounds terrific.''