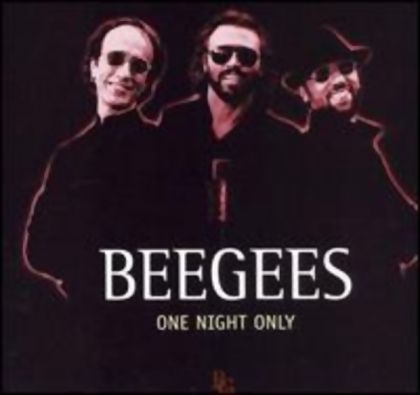 The Bee Gees - One Night Only on DVD
#
Track Title
Artist
Composer
Time
1
You Should Be Dancing
Barry Gibb, Robin Gibb, Maurice Gibb
3:05
2
Alone
Barry Gibb, Robin Gibb, Maurice Gibb
4:31
3
Massachusetts
Barry Gibb, Robin Gibb, Maurice Gibb
2:51
4
To Love Somebody
Barry Gibb, Robin Gibb
3:13
5
I've Gotta Get A Message To You
Barry Gibb, Robin Gibb, Maurice Gibb
4:12
6
Words
Barry Gibb, Robin Gibb, Maurice Gibb
3:46
7
Closer Than Close
Barry Gibb, Robin Gibb, Maurice Gibb
4:36
8
Islands In The Stream
Barry Gibb, Robin Gibb, Maurice Gibb
3:59
9
One
Barry Gibb, Robin Gibb, Maurice Gibb
4:55
10
(Our Love) Don't Throw It All Away
The Bee Gees, featuring Andy Gibb
Barry Gibb, Blue Weaver
3:32
11
Night Fever / More Than A Woman
Barry Gibb, Robin Gibb, Maurice Gibb
3:50
12
Still Waters Run Deep
Barry Gibb, Robin Gibb, Maurice Gibb
3:26
13
Lonely Days
Barry Gibb, Robin Gibb, Maurice Gibb
4:04
14
Morning Of My Life
Barry Gibb
3:20
15
New York Mining Disaster 1941
Barry Gibb, Robin Gibb
2:05
16
Too Much Heaven
Barry Gibb, Robin Gibb, Maurice Gibb
1:37
17
I Can't See Nobody
Barry Gibb, Robin Gibb
1:22
18
Run To Me
Barry Gibb, Robin Gibb, Maurice Gibb
1:02
19
And The Sun Will Shine
Barry Gibb, Robin Gibb, Maurice Gibb
1:40
20
Nights On Broadway
Barry Gibb, Robin Gibb, Maurice Gibb
1:53
21
How Can You Mend A Broken Heart
Barry Gibb, Robin Gibb
3:25
22
Heartbreaker
Barry Gibb, Robin Gibb, Maurice Gibb
1:15
23
Guilty
Barry Gibb, Robin Gibb, Maurice Gibb
2:52
24
Immortality
The Bee Gees, featuring Celine Dion
The Bee Gees, featuring Celine Dion
4:43
25
Tragedy
Barry Gibb, Robin Gibb, Maurice Gibb
4:55
26
I Started A Joke
Barry Gibb, Robin Gibb, Maurice Gibb
2:45
27
Grease
The Bee Gees, featuring Frankie Valli
Barry Gibb
3:15
28
Jive Talkin'
Barry Gibb, Robin Gibb, Maurice Gibb
5:03
29
How Deep Is Your Love
Barry Gibb, Maurice Gibb, Robin Gibb
4:08
30
Stayin' Alive
Barry Gibb, Robin Gibb, Maurice Gibb
6:05
31
You Should Be Dancing
Barry Gibb, Robin Gibb, Maurice Gibb
9:07
32
Medley: Heartbreaker / Guilty / Chain Reaction
4:09
33
How Deep Is Your Love
Barry Gibb, Maurice Gibb, Robin Gibb
3:43
34
Jive Talkin'
Barry Gibb, Robin Gibb, Maurice Gibb
5:21
35
Interview
19:05
Total Time:
142:50
Album Notes
Recorded live at the MGM Grand, Las Vegas, November 14, 1997.

Tracks 32-34 are live bonus tracks from the UK TV show, An Audience With The Bee Gees

From the album jacket:

1997 was an amazing year for The Bee Gees, with inductions into the Rock and Roll Hall of Fame and Songwriters Hall of Fame, plus Lifetime Achievement Awards from the British, American and World Music Awards, the Australian record industry, and the German Bambi Awards topped off by a One Night Only concert at the MGM Grand in Las Vegas, their only live concert in 1997 and first U. S. concert in nearly 10 years.

The brothers Gibb perform their greatest hits from the '60s, '70s, '80s and '90s, including many songs written for and made hits by other artists but never recorded by The Bee Gees themselves such as Islands In The Stream, Guilty, Heartbreaker, (Our Love) Don't Throw It All Away (a special duet with their late brother, Andy Gibb) and Immortality, featuring a guest appearance by multiple Grammy Award winner Celine Dion.